Whether you are a fitness enthusiast, a sports athlete, or just someone that wants to enjoy a less intense but active lifestyle like walking, knee pain can be a significant obstacle. We are about to uncover the 5 methods to cure knee pain which mainly focuses on stretching and other natural remedies to help you to overcome this challenge and get back to doing the things you love without any discomfort. Let's take things one step at a time! 
Calf Stretch
All you need for this stretch is some space and a wall. In a standing position with your feet hip-width apart, face the wall with your hands placed on them and elbows bent. Step one foot back as far as possible comfortably until your arms are fully straightened, bending the knee that is closer to the wall. Hold this position for about 15 to 30 seconds and repeat this for the other leg. Calf stretches helps to stretch the calf muscles which can improve knee alignment and alleviates knee pain.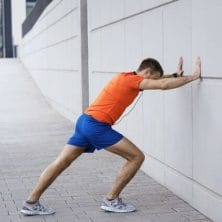 Quadriceps Stretch
For this stretch, stand on one leg and grab the ankle of the leg that is not placed on the floor towards the back of your thigh. Slowly pull your ankle to stretch your front thighs and hold this position for 20 to 30 seconds and then repeat it on the other leg. Doing this stretch helps to target the quadriceps, which plays an important part in knee stability and reducing any discomfort from it.
Hamstring Stretch
This stretch requires you to sit instead of standing. In a sitting position, extend one leg until it is fully straightened, and the other leg bent such that the sole of the foot is rested against your inner thigh. Hold this position and try to reach your toes of the extended leg with both your hands for 20 to 30 seconds, and then switching to the other leg. Hamstring stretches can help lessen the pressure on the knee joint which helps to reduce knee pain.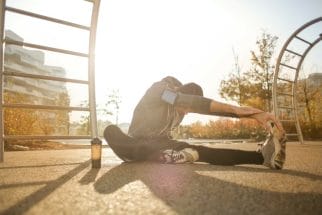 RICE
RICE is a home therapy for knee pain practiced by many and believed by people. The first alphabet R stands for rest, which is one of the fundamentals in healing your joints and for tissue repair. Stay rested by sitting or lying down for a couple of days and reduce any movements that will put unnecessary pressure to your knee to relieve as much pain as possible.  

The next alphabet is I which stands for ice. Applying an ice pack to your knee with a towel wrapped around it can help in relieving acute pain and inflammation.  

The third alphabet C stands for compression which helps to lessen the pain in the knee. You can do this by wrapping a bandage around the affected knee joint but be careful not to wrap it too tightly as this might affect blood circulation.  

The last alphabet, E stands for elevation which is done best when lying down. This simple action helps to speed up the recovery of your knee and reduce pain from it. All you need to do is to raise your leg above the level of your heart and rest it on something comfortable like pillows or a sofa.  
Shark Cartilage for Knee Pain
Shark cartilage has many health benefits and most importantly, helps in relieving joint pain. These capsules are a natural source of minerals, which includes calcium, glucosamine, chondroitin, and many others. When taken regularly, it helps in maintaining joint structure and potentially reduces inflammation in the knee joint. Shark cartilage also helps to relieve symptoms of arthritis patients and even help to promote healthy joint function. To find out more, you can visit https://ausvitalnutrients.com.au/product/shark-cartilage/.
Ultimately, regular pain relief stretches, and home remedies can help with knee pain in the long run, along with the intake of shark cartilage which helps to boost the recovery process and lessen the discomfort. With proper care and support for the knee joint, you can continue to enjoy your daily activities and adventures without having to worry about any pain.