Best Breath Freshener for Instant Results 
How often has it happened when you want to make a great first impression, but you've been struck by bad breath? For many of us, this can be the worst thing to happen when going on a first date, making new friends, or attending an important business meeting.
Ausvital has just the remedy so that you are never caught with bad breath again with two flavours, peppermint, and raspberry, compact for easy travel use in your purse, pocket, or bag.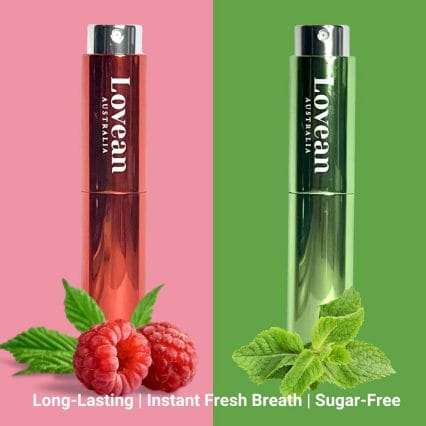 Lovean Breath Freshener  
The Lovean Breath Freshener comes in two familiar flavours: the trialled and true Peppermint, a staple among many popular mints and the fruitier and tangier raspberry for those with a bit of a sweet tooth. 
Our product is made from parts water, glycol, and PG-40, which ensures that the ingredients are dissolved and evenly distributed within the bottle, providing a longer-lasting taste of freshness in the mouth.
Glycerin, menthol, and propylene are where we start to see some hygiene benefits, glycerin is a humectant, which means it attracts moisture, prevents dryness in the mouth and ensures a smooth application when used. Sorbitol, like xylitol, contributes to better dental hygiene, with its main component being sugar alcohol. It prevents an environment from allowing oral bacteria to grow.
It acts as a natural sweetener, not only making our products sugar-free but also preventing tooth decay and cavities alike. Finally, a sign of the best breath freshener is the presence of menthol, a natural compound sourced from mint plants. It provides a cooling sensation and that fresh, minty feeling when used. Menthol is best known for its ability to create a refreshing feeling, whether used as a mint for breath or a balm for the body and is often associated with the perception of coolness in associated products. 
Refresh your breath, refresh your day
Design to be compact and accessible wherever your day may take you, have the Lovean best breath freshener on hand whenever you need it. Built with an elegant twist atomiser, don't stress over leaking or missing lids. Twist, spray and take on the rest of your day confidently with your smile.  
Not only is it made to be elegant for any occasion, with vibrant metallic colour tones that make the product look like any other luxury item, it also comprises ingredients that allow for long-lasting freshness in a small bottle and instant fresh breath in one spray. Go about your day confidently now that you can access this new essential item; no need to worry about tackiness with its luxurious looks and elegant design; refresh your day and engage in conversation confidently, knowing that you are bringing a breath of fresh air.
Peppermint or Raspberry? 
In two distinct flavours, the question becomes, which one do I choose? Both are great products that offer two different cooling sensations.
If you are pursuing an occasion more formal, then peppermint may be a more appropriate choice; with its neutral flavours and cooling sensation further enhanced by the accompanying ingredients, not only will it neutralise any bad breath that may deter you from engaging in conversation, but it will keep your mouth nice and cool without any dryness.  
For the individual with a sweeter tooth, then Raspberry is the freshener for you, with its tangy and fruity sensations satisfying any sweet cravings you may have after a meal with the added benefit of a fresher feeling. 
Conclusion
Say no more to bad breath! And equip yourself with the products that best neutralise the odours, allowing you to attend date night with newfound confidence and swagger, come out of your meeting knowing that you made an impact without impacting their senses.